Don't Forget about the FAST® Parts
Complete Line of HVAC Chemicals, Oils and Supplies!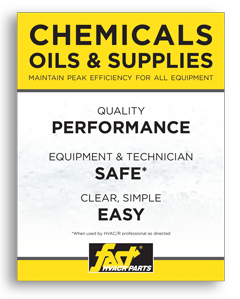 Have you asked your FAST® Parts distributor about chemicals lately?
FAST® Parts has expanded its line of chemicals, oils and supplies. The FAST lineup includes a full range of products including:
• Coil protection products,
• Cleaners,
• Oils,
• Insulation tape,
• Drain treatments and
• Other specialty products.
Click here to check out the new FAST Parts catalog of Chemicals, Oils & Supplies for listings of dozens of new products designed to make it easier for your to service and protect your customers' heating and cooling systems.
Best of all, FAST chemicals, oils and supplies offer these important benefits that are often hard to find:
SAFE*: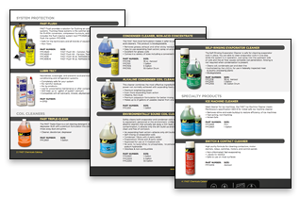 All FAST products go through a rigorous testing process to ensure safety for the technician and your equipment.
• Equipment and technician safe
• ICP and UTC EH&S approved
• Environmental products in line-up
QUALITY:
Premium blend of ingredients to help get the job done fast and right!
• Premium products = easy rinse ability
• Exclusive formulation – will not duplicate in another brand
• Strong, quality products - never diluted
EASY TO USE:
Easy to read graphical representations. Know exactly how to dilute each chemical with the appropriate amount of water.
• Product type and description right on the package
• Easy to select the correct product
• Clear instructions, dilution information right on the bottle
CAN YOUR COIL CLEANER SAY THAT…..?
Ask your FAST Parts distributor about FAST Chemicals, Oils & Supplies today.
Click here to find a FAST Parts distributor near you.
*When used by HVAC/R professional as directed